Business Internet Banking Plus

BIBPlus
UOB BIBPlus is a new internet banking platform to meet our customers' growing business needs. We have harnessed state-of-the-art technology to bring you a platform that offers intuitive, end-to-end solutions to help you manage your cash and trade needs more efficiently. BIBPlus offers convenience, better control and visibility of your cash management and trade financing needs.
IMPORTANT NOTICE:
UOB is migrating customers from Business Internet Banking (BIB) to Business Internet Banking Plus (BIBPlus) and will notify customers in writing in due course. Customers who have not been notified on migration will still use the current BIB system until they are migrated to BIBPlus. Customers can also notify UOB if they need early experience of BIBPlus.
BIBPlus streamlines transactions
BIBPlus helps you to streamline the origination, approval and control processes by allowing you to customise user rights and authorisation levels.
BIBPlus increases efficiencies
BIBPlus allows ease of system integration with your company's accounting system, leading to greater efficiency for transaction initiation, reporting and account reconciliation.
BIBPlus provides smarter solutions
BIBPlus offers a host of new and smarter features to ease your day-to-day work processes, for example the calendar alerts to remind you of important transactions for submission and approvals.
Features
UOB BIBPlus is designed for convenience in managing your cash management and trade finance online. A host of features to enhance efficiency have been included to deliver to you smarter solutions made simple.

Cash Management obtain real-time visibility of account information and control of your funds. It enables you to securely initiate payments and collections via a single interface. It supports automation of exchanges with your accounting system for transaction initiation as well as reconciliation.
Key features – Account Services

The Account Services module is designed to ease your account management.

Full view of all your deposits and loan accounts maintained with UOB
Monitor transactions through customisable alerts via email and calendar

Key features – Payments

The Payments module supports a comprehensive range of local electronic payments, collections, telegraphic transfers, demand drafts and payroll transactions.

Other feature highlights:

Set payroll access rights to authorised personnel only
Allow batch authorisations to speed up approval
Create post-dated and recurring transactions
Set up pre-approved beneficiaries

Key features – Trade Finance

The Trade Finance module is designed to simplify your trade processes through integrating with a customer front-end system. It supports Import Letter of Credit (LC) and Documentary Collection, Standby LC, Shipping Guarantee, Banker's Guarantee, Trade Financing requests and Trade Bill Summary.

Feature highlights:

Ease of navigation between the various sections of a trade application e-form
Convenience in tracking transaction history and status pertaining to a specific transaction
Access to all Trade transactions is available whether that transaction is done manually (over the counter) or via BIBPlus
Optimisation of your workflow via a host of other key features
Quick Guide
UOB BIBPlus is UOB's new internet banking platform to meet our customers' growing business needs.

Our Quick Guide is to help you to start using BIBPlus quickly in order to manage your cash and trade needs more efficiently.


Please note: Due to large file size, please download to read.
SecurePlus Token

Welcome to the greater convenience and security of UOB Business Internet Banking Plus (BIBPlus)
3 easy steps on how to use the new SecurePlus token
To login to BIBPlus
1. When prompted for a one-time-password (OTP)
2. Press the LOGIN button once to display the OTP on the SecurePlus token
3. Enter the displayed OTP into the requested field on the BIBPlus login web page
To approve BIBPlus transactions
1. When presented with instructions on the BIBPlus approval screen
2. Press the SecurePlus token button as specified on the BIBPlus approval screen message
3. Follow the step by step instructions on the BIBPlus approval screen to complete the approval process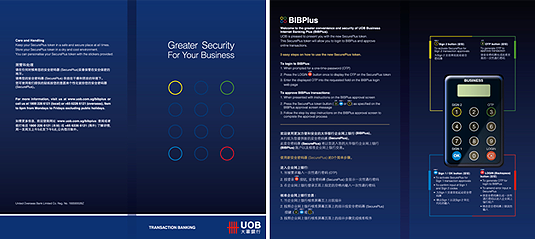 Apply Now
Please download the relevant application form to apply:
Email Us
Call us at 400 886 2821
(Mondays to Fridays,
9:00am to 6:00pm,
excluding public holidays)