Mortgage

UOB (China) knows your options to own your dream home while addressing your financial needs. Our competitive home loan rates and flexible terms will help make your dream home a reality.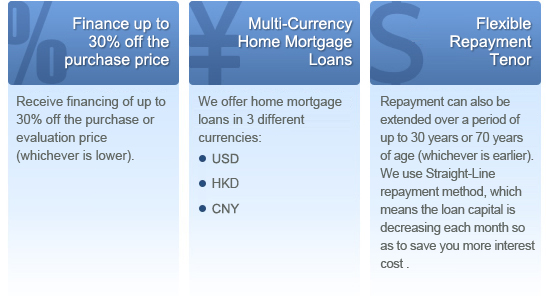 Customer Eligibility
Required Documents
How to Apply
UOB (China) Home Mortgage Loan is open to citizens, foreign passport holders and permanent residents from Hong Kong, Macau and Taiwan.
Foreign applicants must have worked or studied in China for more than one year.
- Customer Identity Documents: Identity Card for local residents; Entry Card for Hong Kong, Macau and Taiwan Residents; Passport for foreigners; Marriage Certificate.
- Customer Income Proof: Income Letter, Bank Statement, or other proof of income.
- Property Transaction Proof: Property Ownership Certification, Deposit Agreement or Sales and Purchase Agreement, etc.
- Other required documents
Please contact our mortgage specialist at a branch for more details.
Please note that you will need to provide the relevant documents when applying for a Home Mortgage Loan.

UOB (China) Privilege Banking Service Hotline:

400-166-6388


Overseas:

(86-21) 6061 8826

(Business days: 8:00-20:00)
*Interest rates are subject to change according to local regulations, policies and market fluctuations.
Note:
The above information is for your reference only. It should not be regarded as an offer, offer invitation, solicitation or advice to buy. Final terms may differ in actual circumstances and the loan approval is subject to the Bank's final credit assessment only.
Privilege Banking Service Hotline
400 166 6388
If you are calling from overseas:
Please dial (86-21) 6061 8826
(8:00-20:00, business days)